ESD Diploma
ESD Diploma - "Clever Makes the Future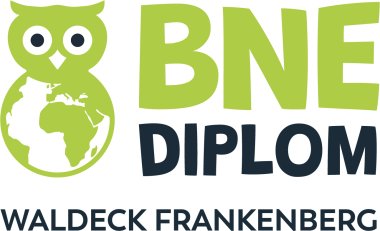 Thinking and acting in a way that is fit for the future: This is the goal of the nationwide initiative "Education for Sustainable Development" - also in Waldeck-Frankenberg. The district actively supports schools in the district in implementing the sustainability strategy and provides them with concrete measures for this purpose.
The Schools and Education department has developed specific concepts for this purpose, through which it supports sustainable education together with other cooperation partners: For elementary schools, it offers the ESD diploma - "Clever macht Zukunft" (Clever Makes the Future), whose content and organizational coordination it assumes completely. The students can take a basic course with four or an advanced course with six topic modules - whether climate, environment, agriculture, nature, animal welfare, nutrition, energy production, sports, children's rights, integration and much more. Their content is based on the curriculum of the Hessian Ministry of Education and Cultural Affairs, the principles of the Hessian Education and Training Plan and the United Nations' Sustainable Development Goals.
All topics are prepared and followed up in the classroom, and the practical lessons mainly take place at out-of-school learning locations. The implementation period is freely selectable for participating school classes. At the end, the children receive a participation diploma. The educational offers are supported by the specialist services of agriculture, sports and youth work and social affairs within the district administration as well as the Network for Tolerance, the Border Worlds Geopark or the specialist office for migration and integration of the district as well as by NABU, the Kellerwald-Edersee National Park and the Kellerwald-Edersee and Diemelsee Nature Parks, Hessenstein Castle and many other clubs and associations from Waldeck-Frankenberg. The state of Hesse is also on board - especially in the conception and implementation of educational days, ESD specialist days and free climate training courses.
ESD modules
Below is an overview of which modules can be selected with which topics in the area of ESD Diploma. Each one relates to one of the 17 UN Sustainable Development Goals.